Pre-professional students are advised to take a broad, general education program to gain background in the
arts, humanities, natural sciences and social sciences

.
Most professional schools do not require a specific undergraduate major, although many students seeking admission to professional schools in the sciences elect a biology or chemistry major.
Dental School Admission
Admission to most dental schools is based on academic achievement as indicated by the grade point average, placement on the Dental Admission Test, recommendations, and personal interviews. Since dental schools have more qualified applicants for admission that they can accept, it cannot be too strongly emphasized that a strong academic record is required for acceptance. Admission committees usually do not publish expected or cut-off scores for grade point average. However, competition for the limited number of positions is intense; transcripts are reviewed with regard to consistency of performance, course loads and the degree of difficulty of the curriculum.
The minimum requirements for admission vary somewhat from institution to institution, but a typical list of requirements includes English Composition (6 semester hours), Biological Sciences with lab (8 hours), Inorganic Chemistry with lab (8 hours), Organic Chemistry with lab (8 hours), Physics with lab (8 hours) and Social and Behavioral Sciences (6 hours). A quantitative background, including Calculus, is recommended.
The Dental Admission Test (DAT) should be taken in the spring of the junior year, but only after completing the required courses in Biology, Chemistry and Physics.
Students interested in professional fields should consult the chair of the Biology and Environmental Science Department, Chemistry Department as early as possible after their entrance into Davis & Elkins College.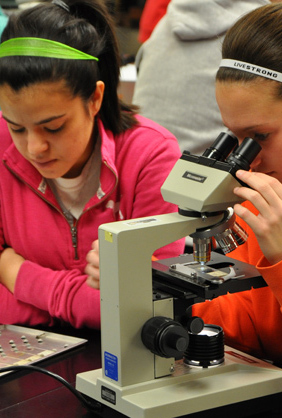 Facilities
Three teaching laboratories are available for courses taught in the major and research.
Other facilities include:
Stock room for chemical storage.
Prep room
Two Balance rooms
Instrument Room which houses the following: Perkin Elmer Infra-red Spectrophotometer
Nicolet Infra-red Spectrophotometer
Beckman Ultraviolet/Visible Spectrophotometer
Perkin ElmerUltraviolet/Visible Spectrophotometer, Lambda 20
Sargent Heavy Duty Electrolytic Analyzer (Electro deposition Apparatus)
Kreis Polarimeter
Perkin Elmer Auto System Gas Chromatograph
Varian Gas Chromatograph
Other equipment in various laboratories for student use is as follows:
Spectroscopes
Baush and Lomb Refractometer
Baush and Lomb Spectronic 20 Spectrophotometers
Centrifuges
pH Meters
Analytical Balances
Lead the Way at D&E. Contact us today.